Where to begin?
I should begin with Patriot Daily News Clearinghouse because without her none of this would have happened. Two things, when I asked her to co-ordinate this effort, I didn't know she was going through radiation therapy. One, it didn't stop her from accepting and two it didn't slow her down. The price she paid was spending Friday night in the hospital with radiation pneumonia. I'll never be able to thank her enough.
Another group is that core of Kossacks PDNC works with on these blogathons. They're all incredible. Thank you guys!
And then there's the work you saw in every diary by JekyllnHyde, his calender of the schedules were great and useful for everyone.
And of course there's my sidekick in these things Onomastic. Nana Ono, she mothers and nurtures each and every diary. She stays with them from launch, all the way through, until no one's talking in them any longer. Thank you Ono!
Next to thank are all of those who read and recommended the diaries. From the bottom of the hearts of all the board members and volunteers who make this happen, Thank You!

And last and by far not the least are all of those wonderful people who made a donation. Words are insufficient to express our sincere gratitude for your generosity. Because of you, over $11,000.00 was raised in just five days.
I was going to do a long dissertation of how important Care Packages are to those deployed of confined to a VA hospital. But instead I'm going to use the words of Lisa Schaper. Lisa is the wife of LTC William S. "Clete" Schaper, the Battalion Commander of the unit we're supporting this year. They're an Engineering unit.
I asked Lisa to write something for us to give us her perspective. We have several kossacks who have written diaries for this series who are familiar with Lisa's view. They'll immediately relate, I think Lisa's word's will help the rest of us understand too.
A PORTRAIT OF THANKS  

by Lisa Schaper, wife of LTC William S. Schaper

As my husband's deployment date approached, I was anxious to get a family portrait made …. for obvious reasons. It had been on my checklist for months. And in just 14 days, our family would move to a new home 15 hours away, unpack, celebrate Christmas,(with the self-imposed planning, shopping, cooking, and parties that includes,) and say goodbye to daddy as he leads a battalion to Afghanistan for one year. And I really needed a family portrait.
My venture to find a photographer had been much more of an undertaking than I had imagined. You see, military families that move every 2 or so years don't have these kinds of contacts, or local friends that can make recommendations. Online searches are more likely our course of action. So mine began. After months of searching, I was felt defeated. It was one of those things I just couldn't erase from my checklist. "What if" it was my last chance?  ("What ifs" can kill you.)

Just four days before the move, I had lunch with a new friend; a new acquaintance really.  Our 10-year-old girls, Wilson and Savannah, were getting tight, and we moms were enjoying their fun!. Then the news came. "Savannah has written a song for Wilson.  It's her interpretation of all that Wilson is going through preparing to say goodbye to her dad," Savannah's mom told me. "The song will be recorded for her upcoming CD." She continued, "The exciting news is a top notch producer, Victor Milt, has requested you and your family be in the music video he is preparing to accompany the release of her song"  (Excuse me, did she just say music video? A professional producer? Isn't that like a portrait in motion?)  I couldn't help myself. I cried.

To simplify the story, that was Friday. On Monday, my family, all four of us, were shooting a music video, laughing and joking, and saying goodbye to daddy. We cried. Victor, the producer, cried. But it was a great day. Stuffed in the middle of the chaos, it gave us some time to hang out together and play, and "act" while some pictures and film were being made.  And if that wasn't enough, at the end of the day Victor said to me, "Lisa, I'd like to donate to you a portrait from this day, as my way to say thanks for your sacrifice." Yep, cried even harder this time.

My husband has been a soldier since 1988. In 24 years we've never lived on a base. We've moved 11 times and endured more than 5 deployments. Military families aren't "organized" on post like we used to be. We're not living beside others whose lives are interrupted like ours.  Our kids don't go to school with kids whose parent is at war. Our neighbors eyes don't say to ours, "I get it," 'cause they don't. Communities are acquaintances, not homes.  If you're lucky, friendships are close for a while, but we move on. Our military lifestyle does mean sacrifice. So when someone takes time to say thank you  …. whether it's big or small, it can leave us speechless. When someone goes the extra mile to lend a hand to our families at home, we feel like they care. When your soldier calls home and talks about a care package received from a stranger, it's priceless. It helps them go the extra mile.  It helps us, as families, take care of them, long-distance style.

A family portrait is invaluable to us as we await daddy's safe return from war.  A care package might just tell a soldier in combat, "We know you're there.  We recognize your sacrifice.  We care about taking care of you and you are important."   And what soldier isn't important?  And oh yes, "What if he doesn't come home?"  Paint your own portrait of thank you today.
If you haven't contributed there's still time. If you have contributed, thank you.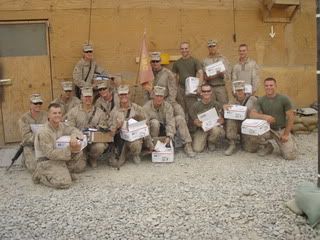 12:51 PM PT: I missed publicly thanking Barbara Morrill and Markos for their very public support. From everyone associated with NFTT, Thank You.
Your public support has shown the world where you stand when it comes to supporting the military. Words are fine but action is what counts and your action helped produce these results.